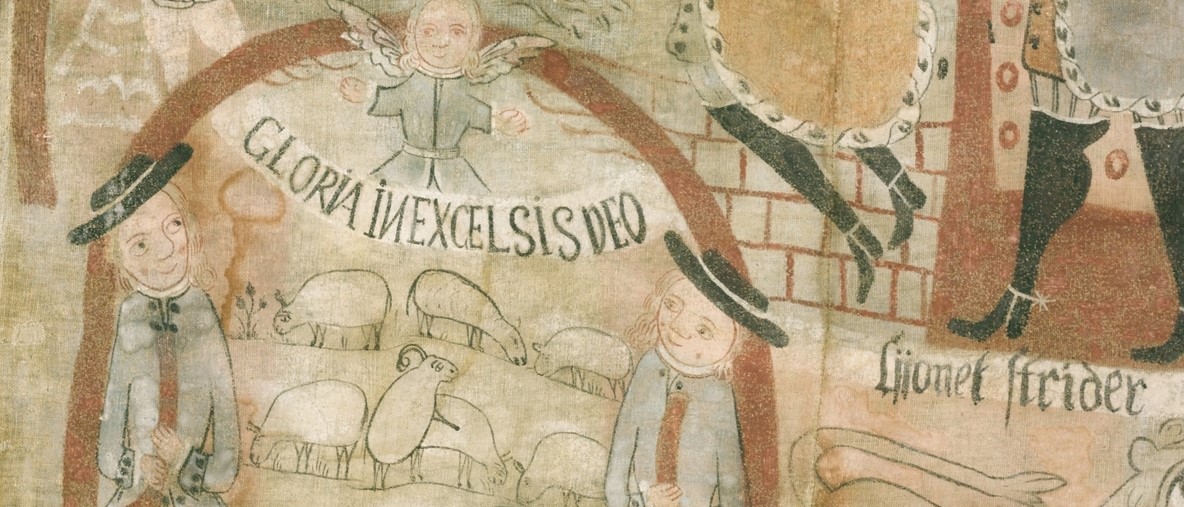 Peasant Painting, Hallands Konstmuseum

This museum holds a important collection of peasant paintings, called bonader, which are particular to the area. This artistic movement appeared around the 1750 - 1850. The paintings were executed with egg tempera on old up-cycled handwoven sheets and table clothes, or locally produced paper. They had a ritual use, being stored rolled up and only brought out for special occasions such as Christmas, weddings, and birthdays. These paintings embodied the peasant world, not only in the materials used, but also by the way they interpreted the bible stories. In Abraham Clemetsson's Nativity the baby jesus is accompanied by the pleides constellation (that marked the beginning and end of the farming year) and some shagging sheep. It is clear that for these peasants the nativity was a story about fertility - that of God, man, the animals, and the Earth.

My response to these paintings involved researching them in the light of the peasant conception of the body and materiality, drawing on Jacqueline Van Gent's research into the Swedish 18th century witchcraft trails in,
Magic, Body and the Self in Eighteenth Century Sweden
, and Ingalill Nyström's
technical analysis
of the pigments and techniques used in the paintings.
I made pigments from foraged wildflowers and mushrooms,and used them in combination with other historic pigments used by these Swedish peasant painters. I also made my own paint brushes, carved farm tools in spalted wood, and made a short video. These were shown alongside objects from the museum collection and selected peasant-paintings.